Interventional Radiology
Interventional Radiology
Interventional Radiology is an innovative field where we use imaging (such as x-ray fluoroscopy, CT, and ultrasound) to guide minimally invasive procedures that treat anything from cancer to vascular disease. As pioneers of angioplasty, catheters, and stents, interventional radiologists have innovative many new treatments for essentially every organ system in the body over the last 50 years. Today, many conditions that once required open surgery can be treated less invasively by interventional radiologists. Interventional radiology treatment offers like risk, pain, and recovery time compared to open surgery.
Our practice boasts 5 certified physicians with extensive interventional radiology experience. We have a clinic service where we can see you and explain our procedures in detail. We practice state-of-the-art medicine, and offer modern care focused on evidence based approaches. We are also experts in procedural and radiation safety, and will ensure that you are exposed to as little radiation as possible during your treatment.
We now also have the best in class Siemens Artis-Q Interventional Radiology angio suite with technologies focused on interventional oncology and vascular disease.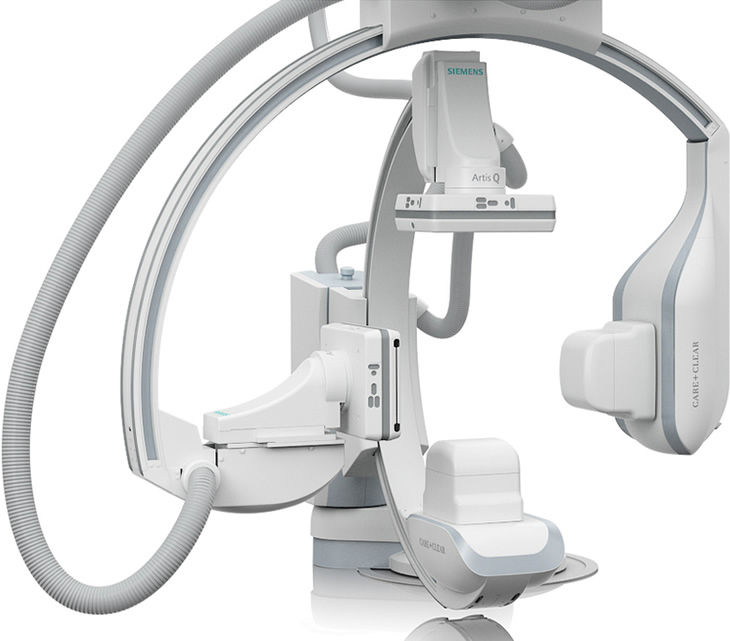 We have recently expanded with numerous Interventional Radiology services
---
Y-90 Radioembolization Video
---
VenaSeal Varicose Vein procedure

The VenaSeal™ closure system is the only non-tumescent, non-thermal, non-sclerosant procedure that uses a proprietary medical adhesive delivered endovenously to close the vein. This unique approach eliminates the risk of nerve injury when treating the small saphenous vein, which is a risk sometimes associated with certain thermal-based procedures.1,2  Clinical studies have demonstrated that the procedure is safe and effective.1-4  The procedure is administered without the use of tumescent anesthesia, avoiding patient discomfort associated with multiple needle sticks.
News
---
We now have new services at Providence Little Company of Mary with a full-line of Interventional Oncology procedures, including tumor chemoembolization, radioembolization with Y90, thermal ablation, and other treatments.
These treatments are minimally invasive methods to treat a range of cancers including those in the liver, kidney, lung, bones, and other organs. We use state of the art technology such as the Covidien Emprint Microwave ablation system. We also routinely perform complex embolizations with conventional chemotherapy, drug-eluting bead technology, or radiation Y90.
---
We have a full clinical consultation service in both inpatient and outpatient settings so that we can educate our patients about their treatments and what to expect.
---
We now are proud to provide comprehensive treatment in peripheral arterial disease.
Peripheral arterial disease leads to blockages commonly in the blood vessels in your legs. This can lead to pain and even ulcers and loss of limbs. Our minimally invasive treatments focus on opening up these blood vessels with the newest innovative technologies, including: drug-coated balloon angioplasty, drug-eluting or bare metal stents or stent grafts, or atherectomy devices. We focus on not only iliac and femoropopliteal interventions, but also more complex tibial disease in critical limb ischemia (CLI).
Peripheral Arterial Disease Watch Video
---
We are now one of the only centers in Southern California to offer the new innovative VenaSeal procedure, which allows for an essentially painless treatment of varicose veins!
---
We provide comprehensive women's interventional services, including Uterine Fibroid Embolization, which we can perform through a femoral or radial artery approach.
We use the safest and highest level of scientific evidence to guide our treatments for your fibroids. Please see the following video about fibroids:
---